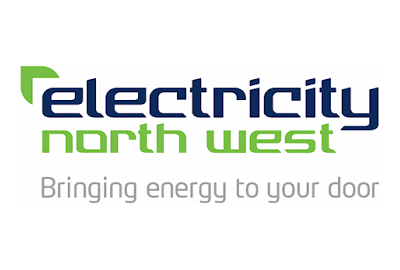 Involvement in Electricity North West Ltd's RESPOND Project (Tier 2 LCNI)
Deployment of 4 FLMs at multiple points to validate network models as part of Electricity North West Ltd's RESPOND project
As we all move to a low carbon future, demand for electricity is set to grow, which will increase fault level on the network. Respond is a £5.5 million project, which runs from January 2015 until October 2018, to maximise the use of Electricity North West Ltd's existing assets, reduce costs to their customers and speed up the connection of new demand and generation.
Electricity North West intend to manage their Network using a Fault Level Assessment Tool which estimates Fault Level in near real time. With these estimations, a series of 3 innovative technical and commercial techniques will be deployed to reduce the fault level if necessary without the need for expensive and time consuming asset replacement.
To learn more about Fault Current and about the RESPOND Project click here to watch a short video.
The Fault Level Assessment Tool is estimating the changing fault level on the Network using existing published fault level values. As part of the RESPOND project, our PM7000 FLMs are being used, along with new models calculated using IPSA+, to validate the Respond electrical network model and simulated fault levels.
"Outram fault level monitors have been installed at a total of seven Respond sites. These monitors have been installed for the purpose of network model validation of both the Electricity North West IPSA+ network model and the Schneider Fault Level Assessment Tool. The first set of results have been provided from three sites, with validation work ongoing by the project partners."  Quote from the Electricity North West 6 monthly RESPOND Progress report, June 2016.
FLM results and comparisons with IPSA+

This table shows that there was better agreement at some sites reported than at others. There is ongoing work to double check these results which is fundamentally the purpose of this project validation work.
More information can be found on the Respond Project 6 monthly Progress Report June 2016  (Pages 14-16 relate to the PM7000 FLM).
The following graphs show 3D and 2D representation of some of the fault level results captured during the recording period. The 3D graphs, generated in our Power Quality Software, Pronto, show Time along the x axis, Fault Level along the z axis and result Value (weighting*) along the y axis. Each 1/2hr period of the recording generates an individual result (an aggregation of all the tiny results recorded over that period from each of the relevant disturbances measured) and all of these results are then aggregated in Pronto to produce an overall Fault Level result. In the first example below, at Irlam Primary, the aggregated upstream 90ms RMS result is 11.63kA.
*The weighting value is dependent on the size and shape of the disturbances measured. This then relates to how much attention is paid to that particular 1/2 hr set of fault level results. The result is likely to be more accurate the bigger and more abrupt the disturbances are so these results are therefore given a higher weighting Value.
Irlam Primary 90ms upstream RMS result (3D)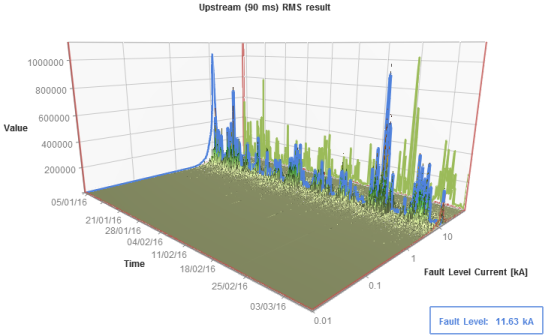 Irlam Primary 1/2 cycle peak upstream result (3D)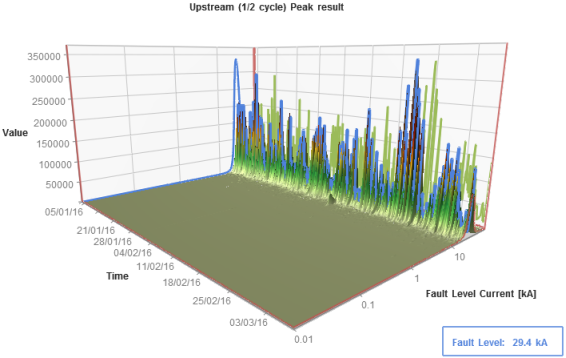 Irlam Primary 1/2 cycle peak upstream result (2D version of the graph above)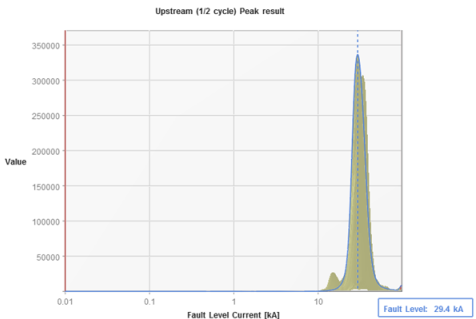 Irlam Primary downstream contribution result (2D)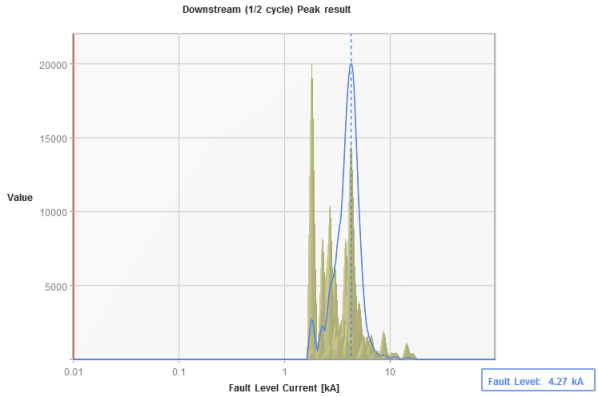 Wigan 1/2 cycle peak upstream result (3D)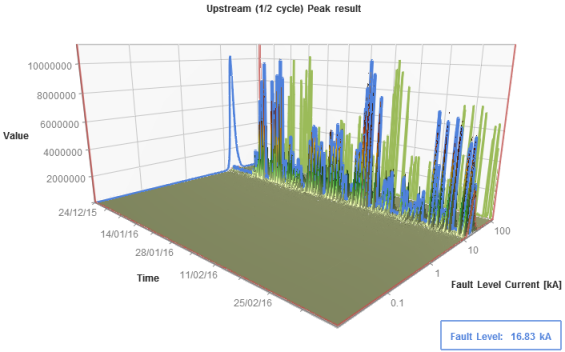 Wigan 1/2 cycle peak upstream result (2D version of the graph above)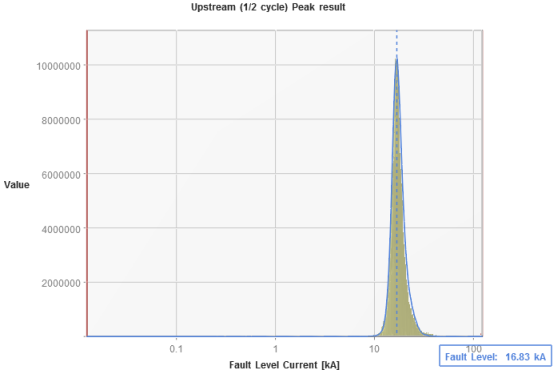 Click here for more details on our work with other UK Distribution Network Operators