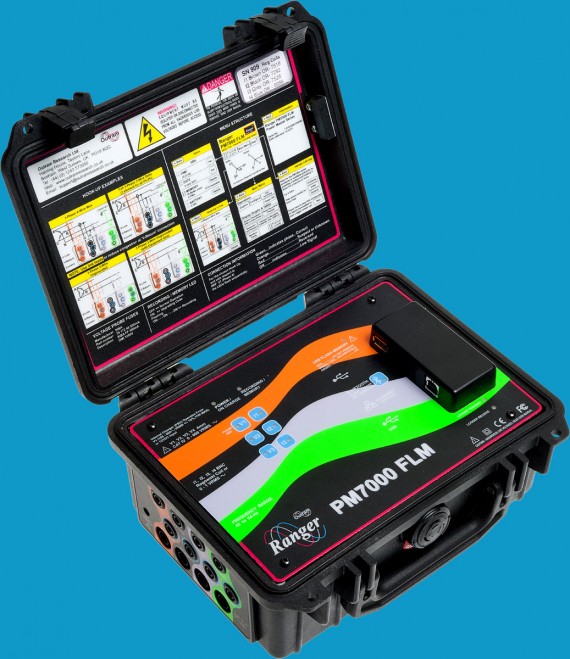 Fault Level Overview
Find out:
Reduce network uncertainty with the Outram PM7000 FLM.
See the PM7000 FLM
Is it really possible to measure Fault Level?
Yes it is!
The fault level or fault current is the maximum current to flow on a network in the event of a fault.
The PM7000 FLM is an entirely original solution to determine the prospective fault level on a radial network up to 132kV by observing natural disturbances e.g. tap changes and load switching.
Working with Scottish Power Energy Networks under the Innovation Funding Initiative (IFI), Outram Research Ltd has developed, tested and validated the first ever portable Fault Level Monitor that can be connected to a live network. It can produce relatively quick results given adequate disturbances, then be moved easily to another location.
The PM7000 FLM, based on the hardware of the Power Quality Analyser, the PM7000, is available not only as a portable unit but also as a sub-station panel mount instrument and as a vital component of future Active Network Management Schemes (The Real Time Fault Level Monitor).
Please get in touch if you would like us to come and give you a CPD certified training session (1 hour) on 'The Basics of Fault Level'.
Explain how Prospective Fault Level Monitoring came about

Show the benefits for customers

Share some of the pilot and application case studies

Detail how customers have saved money

Showcases breadth of support from the Network Operators – the engineers and managers using and endorsing our technology

Make a wider audience aware of our world-first technology
Immediate Uses of the Outram Fault Level Monitor
Validate your existing models. Confirm all sources of fault current are included in your predictions.
Give un-modelled areas a value. Obtain fault level values for areas of the network where models don't exist or it's difficult to obtain them, e.g. sections of the 11kV or Low Voltage network.
Establish local fault level. Measure the fault level at the point of common coupling (PCC) to enable accurate assessment of the impact of harmonic emissions for Engineering Recommendations such as G5/4 and G59/2.
Benefits of measuring the Network Fault Level
Health and Safety: Identify unknown problems.
Identify and manage previously unknown conditions on the network and mitigate the risk.
Operational: Optimise management of network interconnections.
Find out if it's possible to make connections where previously thought to be restricted.
New Connection Possibilities: Plan for additional load with more certainty.
Better predict the effect of harmonic emissions e.g. with respect to G5/4.
Financial Rewards: Save money through improved regulatory performance.
Use accurate monitoring to plan re-enforcement more effectively and remove perceived fault level issues.
Environmental: Let your equipment work longer.
Help the environment and save money by not performing unnecessary infrastructure upgrades.
Environmental: Increase renewable generation connection.
Measure the real impact on fault level enabling more and faster connection.
Example 3D Graph Produced by the PM7000 FLM