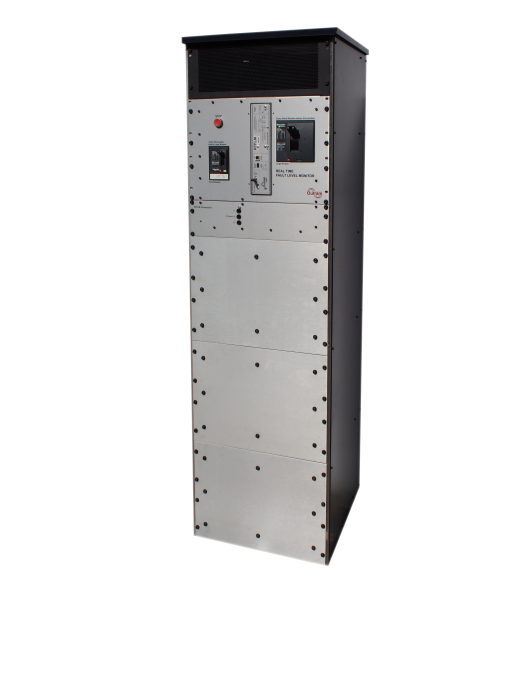 Real Time Fault Level Monitor (RTFLM)
The first ever compact unit capable of measuring Peak and RMS Prospective Short-Circuit Current (Fault Level) in Real Time.
Request a quote
About the RTFLM
The Real Time Fault Level Monitor (RTFLM) can deliver MEASURED Prospective Fault Level Results in real time at LV and MV (up to 33kV).
Installed in network substations, the RTFLM is a standalone cubicle designed to collate prospective Fault Level results generated through the measurement of a number of very small artificial disturbances over a short period. Results can be continuously available but are typically averaged over 10 seconds (selectable). The Prospective Fault Level at the measurement point can be transmitted in real time over the SCADA system, making it the first compact instrument capable of generating real time measurements that can be used by those managing the network.
The Fault Level (short circuit current) data can either be requested from the unit when needed or will regularly and automatically be sent back through the network communication system to the relevant control centre, with a view to being used to actively manage the network based on what the Fault Level actually is at the time.
The RTFLM uses the ground breaking technology found in our Natural Disturbances Fault Level Monitor, the PM7000FLM, coupled with a built in artificial disturbance generator to remove the need for a necessary level of 'activity' on the network, and a radial network measurement position, to produce results. For more information on our small, portable PM7000FLM and how it works, please click here.
Innovation sponsored by OFGEM
The development of the Real Time Fault Level Monitor (RTFLM) has been part of an NIA (Network Innovation Allowance) Project run by SP Energy Networks (SPEN). Stage 1 of this project, currently in progress, is the installation of 2 units on the SPEN Network to accurately predict the MV (11kV) network Prospective Fault Level in Real Time.
Stage 2 of SPENS project, with the inclusion of UK Power Networks (UKPN) into the project team, began in early 2020 was to install a further 8 units on the SPEN network (4 in England and 4 in Scotland) with a further 6 on the UKPN network. This project was to explore how best to actively manage the network based on Real Time Fault Level Results.
For more information on this project with SPEN, visit our Project Partner Page here.
What does this mean for the future?
We anticipate installation of these units in substations and at industrial sites worldwide to help combat problems and constraints faced due to Fault Level being either too high (in more densely populated/industrial areas) or too low (in outlying regions).
Sites have already been earmarked in the UK for RTFLM installation to facilitate new customer connections. These are locations with a believed Fault Level Capacity issue, where, following connection, certain circumstances could take the Fault Level over the local rating limit.
Monitoring the Fault Level, obtaining up to date information, will enable the unique situation where a customer can be disconnected when the Fault Level reaches a predetermined limit. The installation of an RTFLM and an agreement to adhere to an Active Network Management Contract of this type is likely to be a far more attractive proposition than a charge for millions of pounds (£) worth of network reinforcement.
This technology will enable:
Increased network safety, reducing risk of operating above design limits
Validation of models to release additional firm capacity
Increased network operability / security. Allow greater interconnection
The introduction of Active Network Management based on Fault Level
The offering of a new connection customers the choice of a 'Flexible Connection'. Agreeing to disconnection when Fault Level reaches a pre-determined limit
Faster / cheaper connections for customers, increasing the uptake of Low Carbon Technology
Greater visibility / understanding of the network Fault Level – seasonal variability and contribution from customers
For more information please contact us.