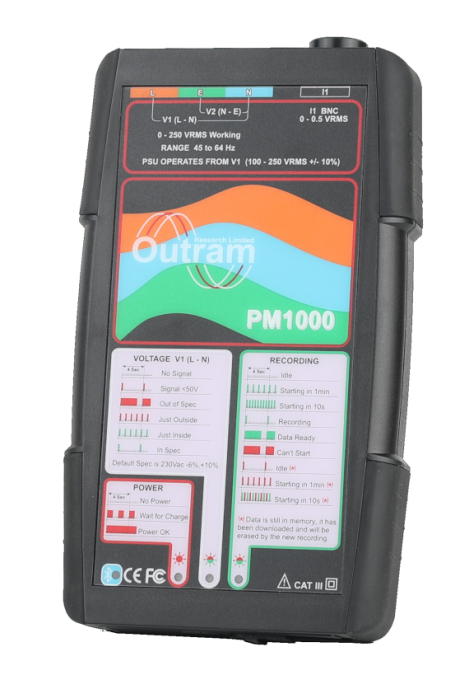 Ranger PM1000 Power Quality Analyser
Single phase power quality, harmonics and flicker monitor.
The PM1000 is ideal for responding to residential voltage complaints and power consumption problems
Request a quote
About the PM1000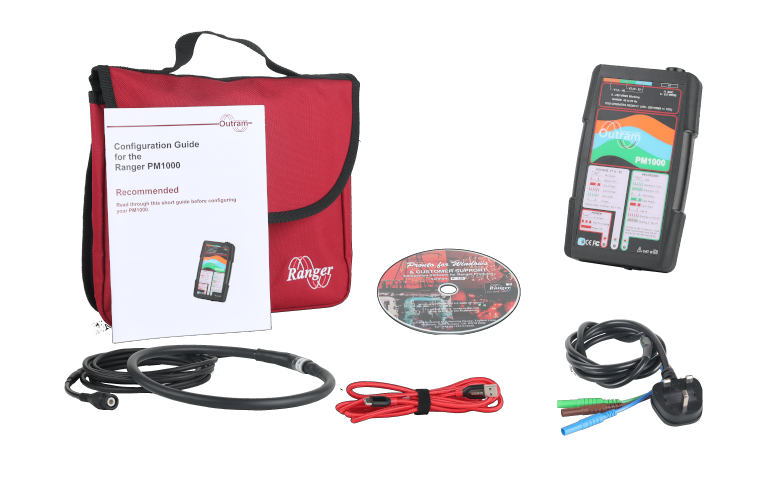 The PowerMaster 1000 Mk2 Single Phase Logger is a 3-channel data logging system built into an easy to carry housing. It is ideal for responding to residential voltage complaints and power consumption problems. It is particularly useful for troubleshooting.
It monitors line to neutral and neutral to earth voltages and one current signal that accepts rogowski coils or traditional current clamps. Flicker Measurements are made to IEC 61000-4-15.
Data is retrieved via a USB-C or Bluetooth serial port. Date and time, recording length, recording mode, sample rate, math channel usage and more can be configured from a laptop or personal computer via the serial port.
Simply plug the PM1000 into the mains or attach to the power to be measured and it will start to record automatically. You can configure it in advance and store 'set ups' on the computer or on the logger.
Key Features Include
The patented Single Cycle Adaptive Storage™ recording process provides extremely high resolution over long recording periods.
Measures current up to 1,000 Amps and voltage between 0 and 270 Volts on a single phase power supply.
Flicker measurements to IEC61000-4-15 (Optional): Instantaneous Flicker Sensation, Short Term and Long Term Flicker Perceptibility.
Records and displays up to 16 channels of voltage, current, power, power factor, VAR's, phase angle, frequency, THD, and much more.
The degree of synchronisation observable between recorded parameters e.g. volts and current can help to determine the source of the disturbance i.e. upstream or downstream.
Comprehensive range of math functions give excellent data analysis.
Data is retrieved with ease via a USB-C or Bluetooth serial port.
Bi-colour status LEDs, externally visible, show recording/memory/voltage/power conditions.
13 pre-stored configurations allow you to get started straight out of the bag.
Comes with Pronto for Windows software, one of the most highly regarded data recovery and analysis packages available.
Technical Information
Input Voltage: 2 channels, 0-270 Vac, Live to Neutral and Neutral to Earth.
Input Current: 1 channel, ranges 0-1000 A RMS and 0-50 A RMS. Sensing using a flexible Rogowski Coil. Also works with standard CT's.
Channels: 16.
Accuracy: Volts and wide range current < 0.25% True RMS +/-2 LSB's excluding sensors. Narrow range current < 1% True RMS excluding sensors.
Resolution: Programmable to 0.1 Vac and 0.1 Aac or 0.01V and 0.01A high resolution mode.
Maths Channels:
AC 1 Phase: RMS, Stray Voltage RMS Hi Res < 35V, Real power W, Reactive Power VARS (fund), Apparent Power VA, Power Factor PF, Phase Angle, Frequency, Instantaneous Flicker Sensation, Short Term & Long Term Perceptibility, Flicker Flag.
Harmonics: Total Harmonic Value, % Total Harmonic Distortion.
Other Maths Option: Channel X * Constant, Channel X / Channel Y, Filtered Channel X, Internal Temperature, On Charge, Battery Volts.
Sampling: Continuous sampling at 64 samples per cycle.
Recording: Single cycle True RMS response time; 16 bit simultaneously sampling all signals.
Recording Mode and Rate:
Adaptive Store: Unique storage management enables extended recording & single cycle resolution on significant signal changes.
Point Store: Selectable from single cycle rate to once every 12 hours.
Memory: 3 options available: 8MB, 16MB & 32MB RAM.
Data Retention: Recorded data stored in Flash Memory.
Power: Runs and charges via an input to 'Voltage Input Channel 1' of 100-270 Vac.
Battery: 4 AAA NiMH batteries & 1 Lithium button cell.
Battery ride through: 10 minutes at a time. Operation from fully charged battery with no ac mains power present > 5 hrs at 25ºC.
Safety & Standards: IEC 61010 (300V Cat III, Pollution level 2), CE, IEC 61326 (EMC), IEC 61000-4-15.
Internal fusing: PSU, Battery stack, fused voltage leads.
Communications:
User Interface: 3 status LEDs (Power on, Voltage in spec, Recording /Memory).
Serial Port: USB-C serial port, (up to 115.2K baud); isolation >2.5 kV.
Bluetooth: Wireless interface (isolated) reception up to 10m.
PMGateway App.: Enables Android mobile phone to act as a Gateway. Send data files to your inbox, start and stop recordings.
Protocol: MODBUS ASCII.
Computer Requirements for Pronto Software: Windows 2000, XP, Vista, 7, 8, 10; 250MB hard drive space.
Case: Multipurpose handheld enclosure with 4 soft grip corners.
Dimensions: 207 mm x 120 mm x 36 mm.
Weight: 800 gm.
Operating Temp: -10ºC (14ºF) to 60ºC (140ºF).
Safety & Measurement Standards
IEC 61010 (300V Cat III, Pollution level 2), CE, IEC 61326 (EMC), IEC 61000-4-15.
Applications include:
Trouble shooting unknown power quality issues – Our unique recording regime Adaptive Store is especially useful for helping to locate, detect, and prevent problems on your single phase network, recording down to a single cycle the instant events occur without setting any thresholds. Unique precise capturing of sudden changes e.g. transients, current spikes, harmonics, drop-outs and brown-outs to high resolution make identifying problems on your power distribution system easier and quicker saving you time and money.
Energy Monitoring
Simple Power Quality Monitoring – Solve customer complaints including voltage or flicker problems using the ability to compare and relate any data streams on the same graph in the Outram/Ranger Software, Pronto. E.g. RMS voltage and instantaneous flicker sensation (and any others) on the same graph. Finding the problem quickly using Adaptive Store recording regime means minimum customer disruption. Measure THD to the 25th.
Power Quality Software: Our comprehensive and very flexible Pronto software is the same for all Outram/Ranger Equipment so even when hiring a variety of models you will still use the same software each time.
Recent hire applications include:
Domestic load monitoring
Residential Flicker Complaint
Single Phase Energy Consumption