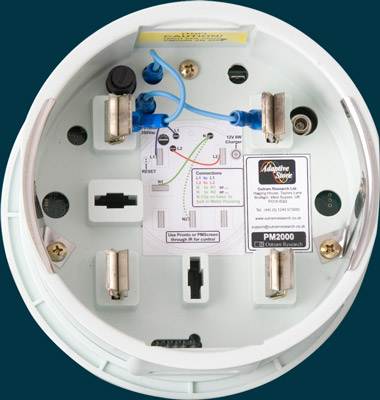 PM2000 Meter Socket Logger
Power quality, harmonics and flicker monitor in a meter socket housing
The PM2000 Meter Logger (USA only) is a 5-channel data logging system built into an electric meter housing
Request a quote
About The PM2000
The PM2000 Meter Logger (USA only) is a 5-channel data logging system built into an electric meter housing. It is ideal for responding to residential voltage complaints and power consumption problems.
It installs onto the meter housing and all monitoring connections are made through the jaws of the metering system. Data is retrieved via an infra-red or (optional) Bluetooth serial port. Date and time, recording length, recording mode, sample rate, math channel usage and more can be configured from a laptop or personal computer via the serial port.
The latest product update offers the facility for a memory upgrade, with the PM2000 now available with 1MB (Standard), 8MB, 16MB and 32MB internal memory.
Key Features Include
The patented Single Cycle Adaptive Storage™ recording process provides extremely high resolution over long recording periods.
Measures current between 0 and 200 Amps and voltage between 0 and 270 Volts on a split phase power supply.
Records and displays up to 16 channels of voltage, current, power, power factor, VAR's, phase angle, frequency, THD, and much more.
Flicker measurements to IEC61000-4-15 (Optional): Instantaneous Flicker Sensation, Short Term and Long Term Flicker Perceptibility.
Comprehensive range of math functions give excellent data analysis.
Data is retrieved with ease via an infra-red or (optional) Bluetooth serial port.
Bi-colour status LEDs, externally visible, show recording/memory/voltage/power conditions.
10 pre-stored configurations allow you to get started straight out of the bag.
Comes with Pronto for Windows software, one of the most highly regarded data recovery and analysis packages available.
Memory options available include 1MB (Standard), 8MB, 16MB or 32MB.