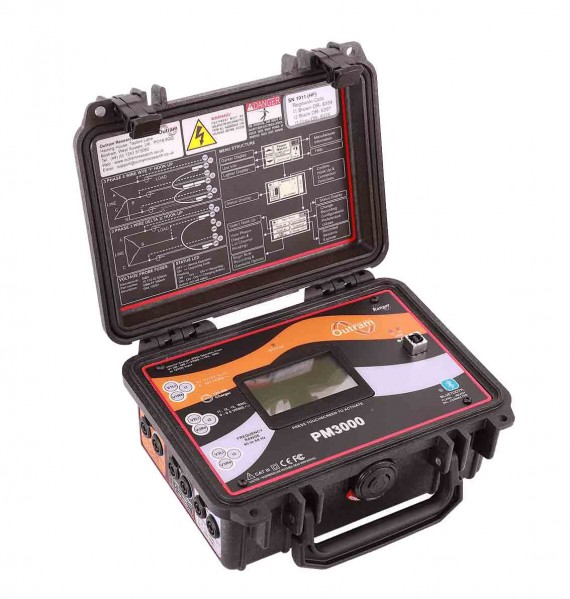 Ranger PM3000HF Power Quality Analyser
Three Phase power quality, harmonics and flicker monitor
The PM3000HF Power Logger is the best value 3 phase power quality & harmonic logger on the market today.
Request a quote
About The PM3000
The PM3000HF Power Logger is the best value 3 phase power quality & harmonic logger on the market today.
It measures almost every aspect of the electricity you're supplying or receiving, so is a must for utility, electricity and power supply companies as well as large industrial consumers, from heavy machinery plants to hospitals and supermarkets.
The PM3000HF now comes with 3 memory options: 8MB (Standard), 16MB, and 32MB. You will now be able to record down to single cycle detail for up to 2 months at a time.
DC Measurement Upgrade Available
Contact us now to see if your existing PM3000HF can be fitted with a DC Measurement or Extra Memory Upgrade.
Key Features Include
The patented Single Cycle Adaptive Storage™ recording process provides extremely high resolution over long recording periods.
Measures current between 0 and 3,000 Amps and voltage between 0 and 480 Volts on single phase, two phase and three phase power supplies
Flicker measurements to IEC61000-4-15 (Optional): Instantaneous Flicker Sensation, Short Term and Long Term Flicker Perceptibility.
Records and displays up to 16 channels of voltage, current, power, power factor, VARs, phase angle, frequency, THD, and much more.
Comprehensive range of math functions give excellent data analysis.
Graphical touchscreen interface provides straightforward, user-friendly operation.
23 pre-stored factory configurations allow you to get started straight out of the bag.
Comes with Pronto for Windows software, one of the most highly regarded data recovery and analysis packages available.
New! Hook-Up Checklist with photos and reference vector diagrams to give confidence of correct hook-up whether 1st or 101st time of using the unit. Available in European Union, USA and Asian (Australasian) colours.
Who uses it?
There is interest in the measuring of Power Quality and Energy in literally every industry and at nearly every business.
Anyone involved in any of the following will benefit from the PM3000HF:
The generation/distribution and transmission of electricity or gas.
General electrical contractors.
On-site electrical contractors & engineering/construction companies.
Industrial plants.
Government, municipal buildings or organisations.
Energy management or energy consulting companies.
Why will I enjoy using it?
Any of these great reasons!
It's small and light; easy to carry and tuck away, less hassle.
It comes with a cheerful purpose made bag.
It feels good and is attractive to look at.
Very thorough safety tests and fused voltage sensors mean you can relax and feel safe.
The flexible Rogowski coils are much easier to fasten round conductors.in awkward places and suitable for almost every job so you don't need anything else.
The bag contains a complete set of parts so you won't have to worry about forgetting anything.
Clip the voltage sensor roll on the front of the bag, hang the bag round your neck and how confident you will feel with both hands free up a pole or on some other difficult job.
Our Pronto software works with all our products so you will enjoy only having to learn about it once.
The graphs and reports are well presented and smart to look at. You will enjoy producing an important document.
Our manual, supplied on disc with the kit, is more comprehensive and readable than most manuals. Look through it and be delighted by the help it will give you.
Don't forget the 'Help' in the logger menu. Button Help is available wherever you are in the menu, whatever your activity, to make learning how to use the logger as easy as possible. Topic Help instructs you on particular topics. We want you to enjoy feeling comfortable about using the logger as soon as possible.
The backlit touchscreen is so easy to use especially with the plastic pointer pencil we have supplied. Just touch the screen twice anywhere to start up the logger.
Generally you will power the logger off the mains electricity when you are using it. You will feel completely relaxed about the integrity of your recorded information should the power go down. The logger will carry on recording for a further ten minutes after which it will shut down all processes so as to keep its battery power for conserving your data, for two months at least.
It is so easy to go through the menu structure with the touchscreen. that you will quickly feel comfortable doing difficult set ups like calibration.
See for yourself how enjoyable it is to use. Contact us or our distributors and ask for a visit. Then play with it
Technical Information
Input Voltage: 3 channels 0-480Vac. Sensors: In-line shrouded 4mm banana plugs and fused crocodile clips. 0-480Vdc optional.
Input Current: 3 channels. Sensors: Three 24″ 3000 Amp Flexible Current Clamps supplied (Ranges 0-3000A, 0-400.0A, 0-50.00A) or can use with conventional 0-0.5Vac voltage output current clamps. DC measurement with suitable sensors optional.
Channels: 16
Accuracy: Volts and wide range current < 0.25% True RMS +/-2 LSB's excluding sensors. Narrow range current < 1% True RMS excluding sensors. Zeroing function for DC
Resolution: Programmable to 0.1 Vac and 0.1 Aac 0.01V, 0.01A high resolution mode
Maths Channels:
AC 1 Phase: RMS, Stray Voltage RMS Hi Res < 35V, Real power, VARS (fund), Apparent Power, Power Factor, Phase angle, Frequency, Instantaneous Flicker Sensation, Short Term & Long Term Perceptibility, Flicker Flag
AC 2 Phase: Real Power, VARS (fund), Apparent Power, Power Factor
AC 3 Phase: Real Power, Reactive Power VARS (fund), Apparent Power, Power Factor, Voltage Unbalance, (Conventional & Sequential Components) Current Unbalance, Voltage Phase-Neutral (where applicable) and Phase-Phase
DC: DC component may be extracted on all 6 channels
Harmonics: Odds, Evens, Triplens, Individual Harmonics and Harmonic Direction to the 15th, K Factor, % Total Harmonic Distortion to the 25th, Harmonic Value
Symmetrical Components: NPS, NPS/PPS (Voltage and Current)
Other Maths Option: Channel X * Constant, Channel X / Channel Y, Filtered Channel X, Internal Temperature, On Charge, Battery Volts, DC optional
Sampling: Continuous sampling at 64 times per cycle
Recording: Single cycle True RMS response time; 16 bit simultaneously sampling all signals
Memory: 5 options available: 1MB, 8MB, 16MB, 32MB & 64MB RAM
Recording Mode and Rate:
Adaptive Store: Unique storage management enables extended recording & single cycle resolution on significant signal changes
Point Store: Selectable from single cycle rate to once every 12 hours
Data Retention: Back-up battery provides 2 month's retention @ 25ºC (77ºF )
Power: Requires 50-480 Vac from Phase A voltage measurement or separate power supply
Battery: 4 AA NiMH battery pack & 1 Lithium battery
Safety & Standards: IEC 61010, 600V Cat. III, Pollution level 2, CE, IEC 61326(EMC), IEC 61000-4-15
Internal fusing: PSU, Battery stack, fused voltage leads
Communications:
Serial Ports: RS232, (up to 230.4K baud); isolation>2.5kV.
Bluetooth: Wireless interface (isolated) reception up to 10m (optional).
PMGateway App.: Enables Android mobile phone to act as a Gateway. Send data files to your inbox, start and stop recordings.
Protocol: MODBUS ASCII touch-screen display 100 x 35 mm
Computer Requirements for Pronto Software: Windows 2000, XP, Vista, 7; 250MB hard drive space
Display: Backlit LCD graphic touchscreen display 2.5″ x 1.35″
Case: Pelican 1120 Guard Box: Dimensions 8″ x 6.5″x 3.5″
Weight: 2.5lbs. without leads and clamps
Operating Temp: 14ºF (-10ºC) to 140ºF (60ºC)
Safety & Measurement Standards
IEC 61010, 600V Cat. III, Pollution level 2, CE, IEC 61326(EMC), IEC 61000-4-15
Applications include:
Trouble shooting unknown power quality issues – Our unique recording regime Adaptive Store is especially useful for helping to locate, detect, and prevent problems on your network, recording down to a single cycle the instant events occur without setting any thresholds. It's unique precise capturing of sudden changes eg. transients, current spikes, harmonics, drop-outs and brown-outs to extremely high resolution makes identifying problems on your power distribution system easier and quicker saving you time and money.
Voltage and Flicker Complaints – Solve customer complaints including voltage or flicker problems using the ability to compare any data streams on the same graph in the Outram/Ranger Software, Pronto. E.g. RMS voltage and instantaneous flicker sensation (and any others) on the same graph. Finding the problem quickly using Adaptive Store recording regime means minimum customer disruption.
DC Measurement – (optional, please ask for relevant probes)
Energy assessments
Load Studies – verify electrical system capacity before adding extra load
New Equipment Installation – Benchmark before and check after the installation of new equipment to ensure quality of service has been maintained.
Long term monitoring – Discover solutions to hard to find or intermittent problems. Record indefinitely in FIFO mode until the event occurs again. If required transfer data via Wifi/3G/4G using our PMGateway App. Discounts available for long term hire.
Measure in remote locations – PM3000 is powered from the voltage being measured or via a 12V charger. If the power goes down, the PM3000 has a 10 minute ride through then turns itself off. It then starts up again automatically when the power returns so you don't miss anything.
Preventive Maintenance – keep a track on your power quality to detect any problems before they cause your equipment damage or end up in costly down time.
Network Characterization – measure non-sinusoidal and unbalanced systems
Power Quality Software: Our comprehensive and very flexible Pronto software is the same for all Outram/Ranger Equipment so even when hiring a variety of models you will still use the same software each time.
Recent hire applications include:
Power Quality Studies, usually for 7 days – max, min and average recorded to detect any problems.
Diagnosis of equipment failure
Detecting reason for electricity supply tripping (problem was imbalance). Measure pre and post remedial work.
Pre-emptive studies, to measure Diesel Generator function. Generator was struggling under increased load capacity. PM3000 was placed on a generator in the middle of a field, so no mains supply. The unit stopped and restarted whenever the generator went off then online again.
Current measurements, either 0-400.0A or 0-3000A with Rogowski coils (0-1A, 0-10A, 0-100A Low current CTs also available) – easy to power, either from voltage being measured or 12V charger – can measure voltage by just plugging it in.
Three 24" 3000 Amp flexible current
clamps (max. conductor size 8")
Four voltage input cables with fusing
USB Download Cable
Three Neutral Common Leads
Mains Lead
Customised Bag with Tool Roll
Pronto For Windows Analysis Software
Customer CD with Operation Manual
Braid for personal cable management
Optional Android Tablet/ Mobile Phone for Bluetooth Communication