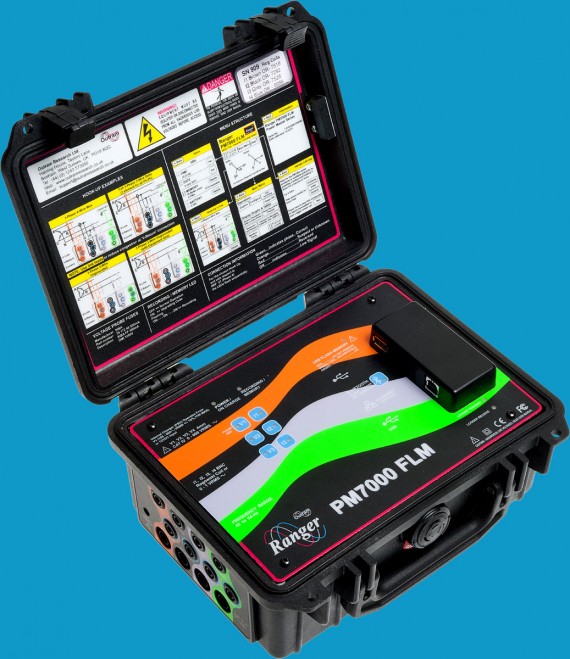 3 Phase Power Monitors
Outram Research Ltd manufacture and sell 4 different models of 3 phase power monitor:
Request a quote
Measure 32 (PM7000) or 16 (PM3000) recording channels at half cycle intervals, displaying data down to single cycle resolution when interesting events occur during a recording. Each time a deviation from the 'trend' occurs the measured data is recorded in more detail, down to as little as a single cycle. Don't miss anything by having to set thresholds. With Adaptive store you don't need to, the important detail is captured automatically.
Record high speed waveforms on all 8 measurement channels (4 voltage, 4 current) at 1.228 Mega Hz using our PM7000 Turbo model. As with Adaptive Store, no thresholds need to be set as waveforms are captured automatically based on the triggers selected, from Transient, Ring, Notch, Sag, Surge, THD and TH Current. Either record all events or just the worst throughout the recording by choosing 'Greatest Disturbances'. The PM7000 automatically ranks the waveforms recorded so you can choose to record, for example, the most interesting 50 (selectable) of the particular trigger you have chosen. Once you have looked through the top 10 ranked waveforms, you probably will not want or need to see any more.
General Parameters
Over 470 channels are recorded automatically at a user specified interval during every recording, simultaneously to the other recording regimes described. With intervals from 1 second to 12 hours (many options available), compare against the Standards, get trend data, measure all Voltage or Current harmonics to the 100th order at the same time. Find anything you may have forgotten to record using the Adaptive Store detailed channels. (Interharmonics Option needed for harmonics to the 100th).
Fault Level (PM7000FLM and PM7503FLM only)
Predict prospective Fault Level at the point of attachment by evaluation of normal network behaviour. Determine Peak (10ms) and RMS (selectable, typically 90ms) Upstream Fault Level and Downstream Motor Contribution (10ms) measurements. Potentially see Fault Level change over time depending on the configuration of the network during the recording. For more information click here
Applications for Outram's Power Master 3 phase Power Monitors
PM7000 (and PM7503 where appropriate)
Benchmark and validate new equipment installations
Create detailed power quality surveys from templates. G5/4 reporting possible with just a few clicks in our Power Quality Software, Pronto for Windows.
Monitor long term without revisiting the analyser.
Speed up critical equipment recovery by monitoring malfunctions if and when they happen.
General Harmonics Analysis to the 100th Harmonic (individual harmonics measurement to the 127th)
Solve customer complaints on your network
Measure in remote locations, powering the unit of Phase A, safe in the knowledge the logger will restart after power interruptions.
Measure load distortion and imbalance
Measure for preventive maintenance to prevent equipment malfunction
Capture Fast Transients, Notches, Rings, Sags, Surges and more
Capture Power Quality Events with no thresholds set
Network Characterization
PM7000FLM (and PM7503FLM)
The PM7000FLM (and PM7503FLM) can do all of the above but can also be used to:
Validate Network Fault Level Models
Replace weeks of very expensive system modelling with a single recording
Exploit absent but assumed Generation/Motor Contribution.
Validate breaker settings.
Delay/eliminate need for/ network reinforcement.
Maximise breaker life.
PM3000 applications include
Solve Voltage and Flicker Complaints
Measure DC
Carry out energy assessments
Carry out Load Studies
Benchmark and Validate New Equipment Installation
Monitor Long term using FIFO mode
Measure in remote locations, powering the unit of Phase A, safe in the knowledge the logger will restart after power interruptions
Measure for preventive maintenance – keep a track on your power quality to detect any problems before they cause your equipment damage or end up in costly down time.
Network Characterization
To get a quote to purchase or hire one of our 3 Phase Power Monitors, get in touch with our team today using one of the forms below.