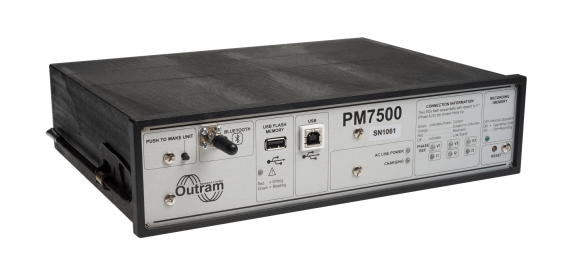 PM7500
Panel Mounted Power Quality and Energy Monitor.
Power quality, harmonics, flicker and waveforms substation monitor.
Request a quote
About The PM7500
The PM7500 Power Quality and Energy Monitor is a panel mounted variant of our top of the range PM7000 Power Quality Analyser. As with the PM7000 and P7000FLM, as well as recording all other important power quality parameters, the PM7500 with the optional Interharmonics upgrade is able to record 100 Voltage or Current harmonics on all 4 inputs at the same time.
The PM7500 records events, trends and transients with min/max logging. It can also record >500 channels simultaneously and has automatic sag/swell monitoring down to single cycle on 32 channels using our unique recording regime Single Cycle Adaptive Store. As well as measuring flicker and other parameters, the standard unit measures and records harmonics up to the 50th order. With our Interharmonics upgrade, the user can record up to the 127th harmonic and also select to record current harmonics to the 100th or voltage harmonics to the 100th on all phases automatically and simultaneously.
The PM7500 has waveform capture at 384 samples/cycle at 50Hz, Ethernet, USB and Bluetooth communication. It is also compatible with Nortech iHost and can be rack-mounted if required.
For dimensions and other installation information please contact us.
Key Features Include
Nominal 110Vac (< 300V RMS) for secondary VT output Power Quality and Energy Monitor
0-300Vdc measurement
Flicker measurements to IEC61000-4-15: Instantaneous Flicker Sensation,Short Term and Long Term Flicker Perceptibility.
Single Cycle Adaptive Storage™ recording process provides extremely high resolution over long recording periods.
32 Troubleshooting channels with single cycle detail.
General Parameters: Over 470 channels which record automatically for reporting to the Standards.
Auto-Ranking Waveform Capture: High speed waveform capture ranked for disturbance severity, 7 types of disturbance captured: Transients, falls (sags), rises (surges), rings, notches, THD, Total Harmonic Value. No thresholds need to be set.
Harmonics to the 50th (standard): THD and individual harmonics to the 50th as standard. As well as using the 32 detailed recording channels, record 1-50th harmonics on all voltage and current channels in General Parameters every measuring session (400 parameters over all 8 inputs).
Interharmonics and individual harmonics to the 127th (optional): As well as using the 32 detailed recording channels to record individual harmonics up to the 127th, record the 1-100th harmonics all at the same time on either 4 voltage or 4 current channels in General Parameters.
Fault Level prediction (optional): Peak and RMS fault current predictions generated by observing natural disturbances on the network. See PM7000 FLM product page for more details.
Bi-colour, status LEDs, externally visible, show recording/memory/voltage/power conditions.
Bluetooth, Ethernet, USB, USB Flash Drive connectivity.
Volt free contact closure for status output.
Comes with Pronto for Windows software, a highly regarded data recovery and analysis package.
Rack-mounting kit available on request (2U x 19 inches)