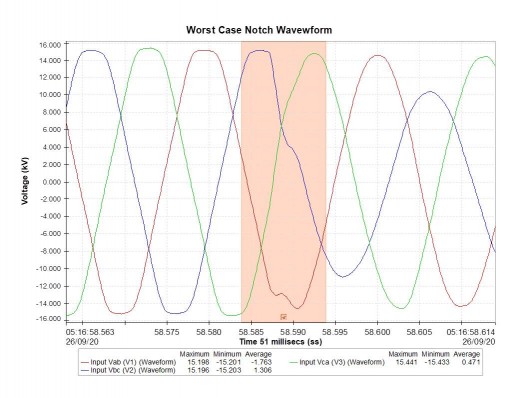 Dr Rob Weller has written Outram a White Paper comparing the new requirements of the Harmonics ENA Recommendation G5/5 compared to the previous version G5/4 which we're pleased to make widely available: G5_5 vs G5_4 summary report Outram Research Ltd.
Looking at the requirements for a G5/5 Harmonics Survey, the measurement needed vs G5/4 have changed quite dramatically. Do get in touch if you would like a copy of our example G5/5 survey report achieved with measurement using our PM7000 Power Quality Analyser.
Harmonic above 50th
The values for planning levels and compatibility levels in EREC G5 Issue 5 have been changed from those in EREC G5 Issue 4 to extend the frequency range. The limits now go up to 5 kHz (100th harmonic) rather than the old limits ending at 2.5 kHz (50th harmonic).
Limits for Interharmonics
Limits for interharmonics within EREC G5 Issue 4 have been revised. Based on IEC 61000-4-30 and IEC 61000-4-7, clear  definition for measurement of interharmonics and subharmonics is given up to 4990Hz.
Limits for Voltage Notches
Limits for voltage notches have been revised to add an additional requirement on the area of the notch on the voltage waveform.
Planning and Compatibility
Section 5 of EREC G5 Issue 5 contains both planning and compatibility levels.
Values for planning levels in EREC G5 Issue 5 have been changed in two ways from those in EREC G5 Issue 4:
The values have been changed to the higher of those in international standards and those in EREC G5 Issue 4.
The voltage ranges have been selected to better align with voltage levels in use on the GB system.
Values for compatibility levels in EREC G5 Issue 5 have been changed using the same method and justification as used to change the planning levels.
Stage 1, 2 and 3 Connection Processes
Stage 1 has been completely revised. The revised document has also been written in more accessible way such that the process of connection should be more understandable for those with limited experience in using standard.
Stage 2 is designed for connection at PCC voltage levels below 33 kV and those assessments that have failed Stage 1. It is also designed in a linear process such that assessments are applied in substages.
Stage 3 uses apportionment of harmonic headroom to set the limits for each connection outlining the minimum requirement for the harmonic specification.
 Requirement for compliance
A new section with guidance on how the new user can demonstrate compliance with the limits set by the Network where the new user submits a report confirming compliance with the harmonic specification issued by the NO responsible for the connection.
 Concurrent connections
A new section providing guidance on how to set limits for concurrent connections; where multiple new users seek to connect to the same node at the same or to electrically close nodes at the same time.