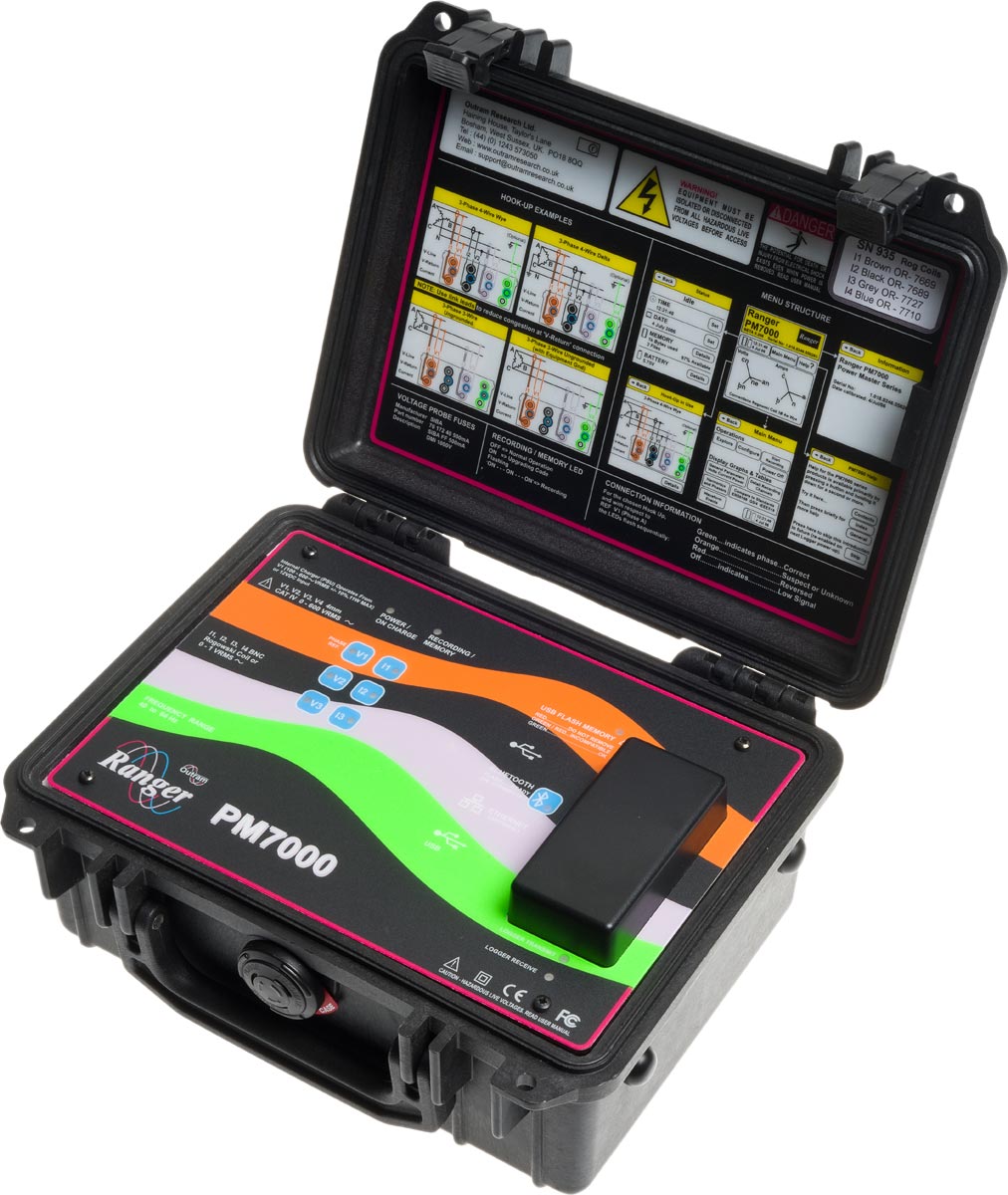 Key Facts:
PM7000I now simultaneously records all harmonics up to the 100th order on either voltage or current
Higher harmonics up to the 127 th can also be recorded
Helps designers of UPSs, drives, inverters and other power electronics equipment to identify and eliminate high-order harmonics
Outram Research – a specialist manufacturer of leading-edge power quality analysers – announces that the PM7000 has an improved "Interharmonics" option making it the first power quality analyser to record simultaneously all harmonics up to the 100 th, on all three phases and the neutral, on either current or voltage. This new functionality makes it possible for engineers to analyse quickly and then eliminate power quality problems found due to high-frequency harmonics generated by uninterruptable power supplies (UPSs), drives or inverters.
By simultaneously recording all current or voltage harmonics to the 100 th and many other electrical parameters, the PM7000 I significantly reduces testing time, pinpointing potentially problematic higher-order harmonics and removing the need for a trial and error approach. For a 3-phase 4 wire wye configuration, the General Parameters function records over 70 power quality parameters in addition to the 400 streams of harmonic data. Because this is automatic, users find they have all the information they need without having to configure individual recording channels. Users can also choose one of thirteen different averaging intervals, from one second to two hours.
In addition to the General Parameter data, every PM7000 offers 32 detailed recording channels using Outram's renowned Single Cycle Adaptive Store ™ that intelligently records power quality parameters such as voltage, current (including inrush current), harmonics, flicker, unbalance and power factor down to a single cycle without the need to set triggers or levels. In the PM7000 I these channels can also be used to extend harmonic recordings up to the 127 th order.
"Because legislation focusses on lower frequencies, manufacturers often concentrate on reducing the presence of the first 50 harmonics," said John Outram, Managing Director of Outram Research. "However, users of drives, UPSs or inverters, such as data centres, power critical manufacturing facilities and solar power plants, may be affected by higher-order harmonics generated by these machines. These harmonics therefore need to be monitored and controlled to avoid problems such as overheating machinery or premature equipment replacement."
Another concern is that higher-order harmonics, created by renewable generation connected at the transmission level, may be emerging on the HV networks. These can then percolate right down to the end user so need to be managed."
he PM7000 I Power Quality Analyser is available today from Outram Research and their distributors.
***ENDS***
If you would like to be sent this article (ref: PRout016uk) as a pdf or MS Word document, please send us a request press_release_request@outramresearch.co.uk
For further information, please contact:
Valerie Outram, Outram Research Ltd
Tel: +44 1243 573050
Editorial: valerieoutram@outramresearch.co.uk
Reader enquiries: sales@outramresearch.co.uk