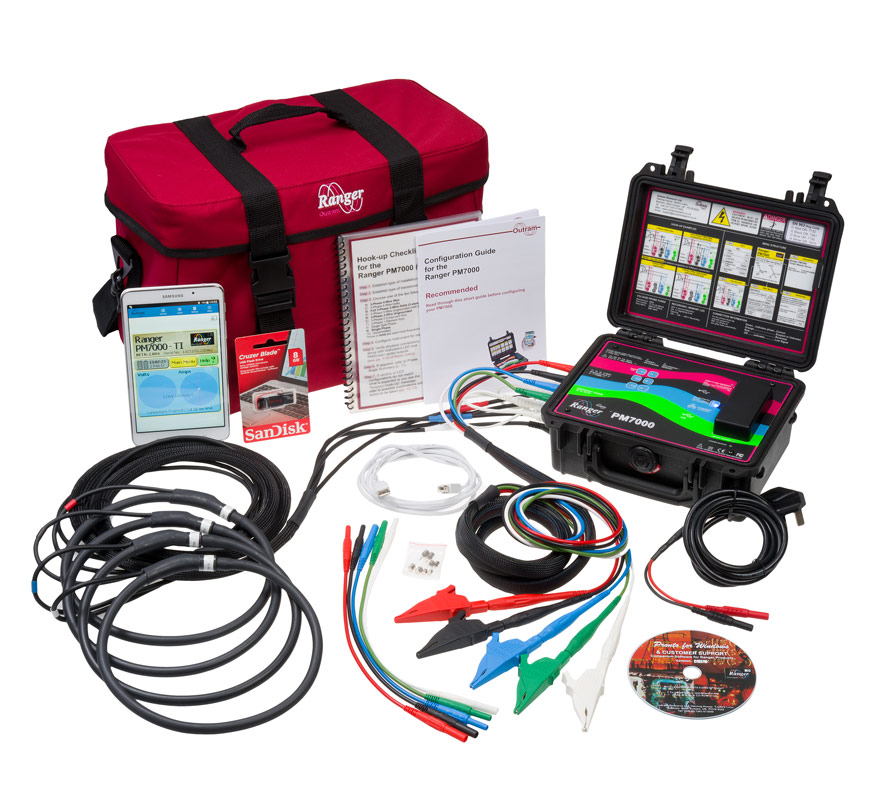 Outram Research – a specialist manufacturer of leading-edge power quality analysers – launches its new PM7000 kit, to enable package to power quality measurement in just 15 minutes. The kit includes new guides that allow systems to be configured and connected more quickly and easily than before: it takes less than 15 minutes from unpacking the analyser to starting to log real data. It enables power engineers to set up their power quality analyser and begin recording 470 general parameters and up to 32 detailed channels of power quality data, including transient waveforms, in less time than was previously possible.
Power analysers can be configured in several different ways, and getting the correct physical set up of leads and software can be difficult. The new Outram PM7000 Hook-Up Checklist and Guide to Factory Configurations help engineers set up the analyser in less time, whilst also helping to prevent configuration errors. Vector diagrams in the checklist explain how to interpret the readings from the analyser, whilst an LED "traffic light" system gives clear indication that the system has been set up correctly.
"Power engineers are very busy people who can't afford to spend large amounts of time setting up and configuring analysers," said John Outram, managing director of Outram Research. "By shipping direct to site, and cutting the time from receiving the package to recording data to less than 15 minutes, we free them to concentrate on the higher-value tasks of identifying and resolving the cause of power quality problems."
Outram power analysers have always offered some of the shortest set-up times due to their Single Cycle Adaptive StoreT technology, which eliminates the need to set trigger levels. This unique storage regime records down to a single cycle those disturbances that are most likely to show the cause of power quality issues, no matter how long the recording period. In addition, the powerful auto-ranking waveform capture feature automatically stores the waveforms of the greatest disturbances or abnormalities during a recording, and presents only the most severe, making identification of the periods when power quality problems have occurred fast and straightforward.
The Outram power analyser kits contain everything required, including fully-fused voltage leads and Rogowski coils accurate to 1%, to record power quality data and detect disturbances that could indicate the cause of power quality problems. The systems also ship with a netbook or windows compatible mobile phone, which has been configured to communicate with the analyser "straight out of the bag".
The Outram PM7000 power quality analyser is now supplied in these "ready-to-go" kits and can be ordered with a mobile phone or netbook that is factory configured for immediate communication with the analyser.
***ENDS***
If you would like to be sent this article (ref: PRout012uk) as a pdf or MS Word document, please send us a request press_release_request@outramresearch.co.uk
For further information, please contact:
Valerie Outram, Outram Research Ltd
Tel: +44 1243 573050
Editorial: valerieoutram@outramresearch.co.uk
Reader enquiries: sales@outramresearch.co.uk