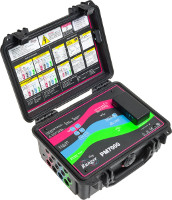 Update: Our PM7000 with our enhanced Harmonics option can now measure all the Harmonic, Interharmonic and Sub-group requirements for G5/5 to enable a full G5/5 Harmonics report. Contact us for more information on booking a G5/5 Survey or hiring the kit to carry it our yourself.

Our PM7000 with a brand new Harmonics upgrade enables us to survey Harmonics to the 100th simultaneously on channels V1, V2, V3, I1, I2 and I3 as well as Harmonics to the 50th on V4 and I4.
We can now measure the individual harmonics needed to report to the new ENA Engineering Recommendation G5/5, which is the latest harmonics recommendation, superseding G5/4, and required from June 2020.
The requirements have increased. As well as measuring and reporting on individual harmonics and THD to the 50th (2.5kHz), these parameters must also be reported up to the 100th order (5kHz) as well as for Interharmonics.
We are currently evaluating the Interharmonics requirements with apparently over 4200 additional measurement parameters needed, with the possibility of creating a 2 unit solution for the full survey requirement.
For a more in-depth understanding of the measurement implications of this new G5/5 Engineering Recommendation, as requested by some of our bigger customers, we are putting together a webinar describing what we can do to help them and their customers survey and report to the new requirements. If you would be interested in joining us to find out more, please get in touch.