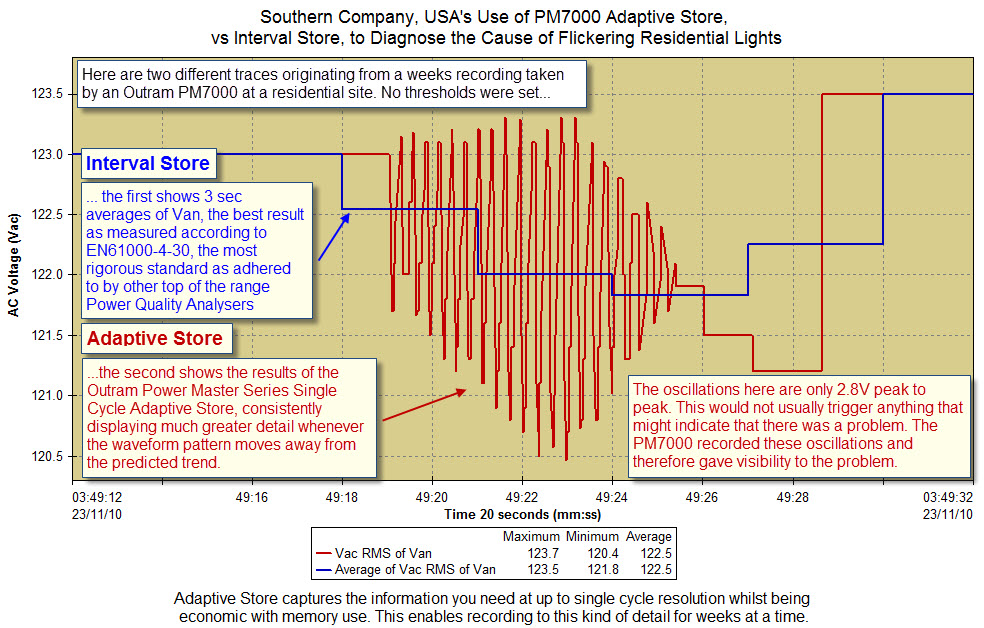 Key Facts:
Southern Company uses PM7000 to reduce time to identify cause of power quality problem
Adaptive Store captured disturbance without the need to set triggers
High sample rate faithfully reproduces anomalies and deviations from the trend
Pump control in sewage plant found to be causing residential lights to flicker
Outram Research Ltd – a specialist manufacturer of leading-edge power quality analysers – announces that its PM7000 power quality analyser helped Southern Company, the premier energy company serving the Southeast USA, to resolve a power quality problem quickly and easily. Power quality problems are notoriously difficult to troubleshoot often occurring intermittently and as a result of a wide range of causes.
Southern Company responded to complaints of flickering lights from a residential customer and her concerns of a faulty electrical installation by installing a standard meter socket voltage recorder. This, however, failed to find anything out of the ordinary so the problem was referred to the Company's specialist Power Quality group. A senior engineer deployed an Outram Research PM7000 power quality analyser that uses the patented Single Cycle Adaptive Store data management technique to search for and record those waveforms most likely to be the cause of power quality problems.
The PM7000 allowed the engineer to zoom in on the exact times that the flickering occurred, and to identify sags in the voltage that were followed surprisingly by very short periods of oscillation to even lower voltages. This detail illuminated the very small anomalies in an otherwise normal looking recording that enabled him to identify the cause as a nearby sewage treatment plant. This plant was using a solid state starter to apply waves of reverse power to gradually bring to a stop a large pump motor, preventing water hammer – pressure surges that can cause noise, vibration and even failure of pipes – when they closed a valve. Once the problem was identified, the resident was assured that her electrical installations were safe and corrective action could be taken.
"A conventional recorder would have to be set on cycle store to get this level of detail, and we only set them to cycle store when we already suspect something like this is happening," Patrick Coleman of Southern Company told Outram. "Starting from scratch, we would have spent weeks zeroing in on something like this with a conventional recorder, but the PM7000 caught it on the first try, with no special setup."
"Even other recorders meeting the full rigour of IEC61000-4-30 would not have captured this detail." commented John Outram. "The standard requires you to record over 200msecs and the voltage excursions seen here are much too small to constitute a dip. The evaluation method fundamental to IEC61000-4-30 would unfortunately have filtered out and eliminated the very effect you need to see".
Adaptive store is the patented technology from Outram Research that automatically records the chosen parameters in great detail and at high sampling rates when anomalies and deviations from the predicted trend occur. By automatically adjusting the thresholds distinguishing the anomalies from the trend as signal dynamics change or the available memory becomes full, the PM7000 ensures that less significant phenomena can be summarised and greater detail recorded for abnormal behaviour. It can record this level of detail over long periods, indefinitely if set in 'First In First Out' mode and the recording sessions are automatically downloaded to a USB stick.
Using Adaptive Store is considerably faster and simpler than setting and adjusting trigger levels as required by other power quality monitors: a process that can lead to an operator taking weeks to 'zero in' on the problem as the Southern Company Engineer observed, as well as needing to wade through much unnecessary data.
"Adaptive Store is a technology we developed to reduce the time and cost associated with troubleshooting power quality problems," explained John. "By taking quick action using the PM7000, Southern Company was able to identify the cause and resolve the problem in a short time frame, minimising the inconvenience to its customer."
The PM7000 is widely used by companies wanting to troubleshoot, identify and resolve power quality problems quickly and efficiently.
***ENDS***
If you would like to be sent this article (ref: PRout010uk) as a pdf or MS Word document, please send us a request press_release_request@outramresearch.co.uk
For further information, please contact:
Valerie Outram, Outram Research Ltd
Tel: +44 1243 573050
Editorial: valerieoutram@outramresearch.co.uk
Reader enquiries: sales@outramresearch.co.uk