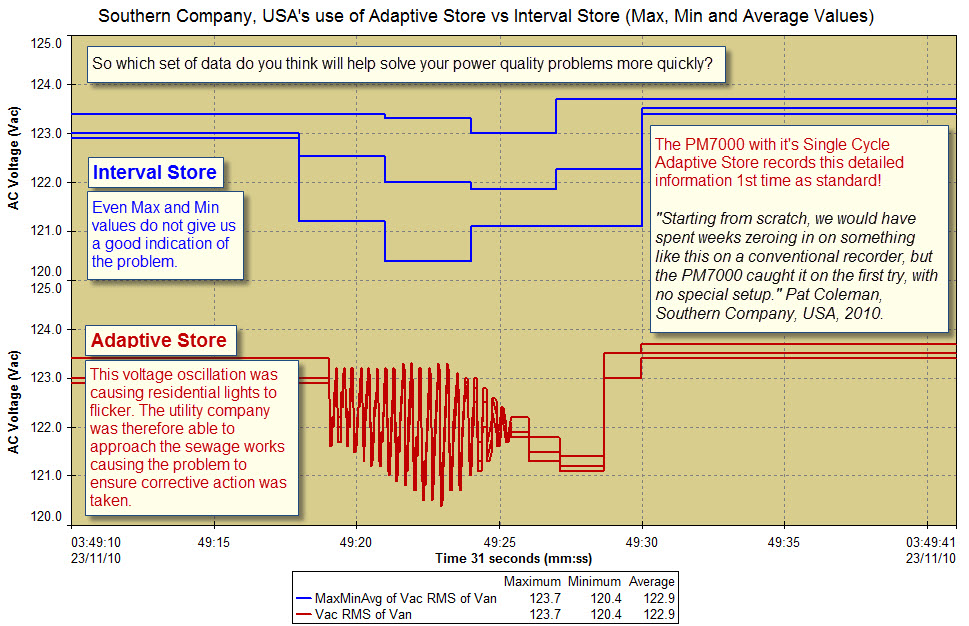 Key Facts:
PM3000 now with new 8MB, 16MB, 32MB and 64MB capacity memory extensions
Most existing 1MB PM3000 analysers can be upgraded with new memory upgrades
Larger memory allows more detailed and longer recording periods
Enhances Single Cycle Adaptive Store T capabilities to make troubleshooting even faster and easier
Outram Research – a specialist manufacturer of leading-edge power quality analysers – announces the development of four new memory extensions available for its PM3000 Analysers. The PM3000 is now available with a choice of 8MB, 16MB, 32MB or 64MB integrated memory. The new extended memory options offer larger memory capacities than the standard PM3000, which ships with 1MB, allowing more detail to be recorded and therefore made available to the user over longer recording periods. The PM3000s with larger memory will in turn offer enhanced profiles of disturbances such as dips, sags, surges and overall harmonic levels, whilst also providing better resolution of phenomena such as Instantaneous Flicker Sensation.
The new extended memory options enhance the capabilities of Outram's renowned Single Cycle Adaptive Store T which eliminates the need to set trigger levels when recording power quality parameters such as voltage, current, harmonics, flicker, unbalance, power factor etc. Adaptive Store intelligently chooses when to record in detail, down to a single cycle, using a complex predictive algorithm, without the need to set thresholds. This makes configuration of the unit and analysis of the data much faster and simpler than with other loggers. With larger memory capacities, potentially problematic occurrences can be recorded in more detail for longer, across 16 channels simultaneously, with the 64MB version able to record and store data down to single cycle detail for up to 2 months at a time.
"Power quality engineers are recording over longer timescales," said John Outram, managing director of Outram Research. "A seven day period used to be typical, but today recording periods are often 14 days or more, which requires larger capacity power quality analysers to record all observed disturbances in the same detail."
A key benefit of the increased memory is the ability to observe the relationships between Voltage and Current RMS in more detail, enabling power quality engineers and consultants to determine if problems are caused upstream or downstream from the point of measurement. It can then be determined if it is the electricity supplier or the installation that is the cause of the issue.
"The new memory extensions in the PM3000 analysers enable engineers to identify and resolve problems in less time," continued John Outram. "The combination of our Single Cycle Adaptive Store T technology with larger memory capacity makes troubleshooting 3-phase power quality issues quick and easy in any commercial, industrial or power distribution situation."
PM3000 Power Quality Analysers with the new 8MB, 16MB, 32MB and 64MB memory extensions are available today from Outram Research and its distributors. Current PM3000 users can also take advantage of the new capabilities as most existing PM3000 analysers can be upgraded to the larger memory capacities.
***ENDS***
If you would like to be sent this article (ref: PRout013uk) as a pdf or MS Word document, please send us a request press_release_request@outramresearch.co.uk
For further information, please contact:
Valerie Outram, Outram Research Ltd
Tel: +44 1243 573050
Editorial: valerieoutram@outramresearch.co.uk
Reader enquiries: sales@outramresearch.co.uk